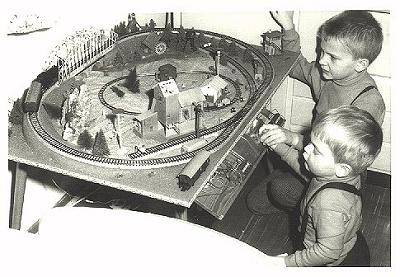 The author, his little brother and their model railway... (circa 1967)
The picture shown above gives proof of the genius of the EGGER-BAHN concept. As an insider in the field, Theodor Egger realized it would be foolhardy to compete head-to-head with the biggest names in German railway modelling. Rather than attempting to win customers away from the established marques, he created a unique niche market for the light railway: with its very small curve radius it was possible to place an oval of EGGER-BAHN track inside virtually any existing HO gauge track layout! And since EGGER-BAHN was also built to the same 1:87 scale as the HO railway, it fit perfectly with any accessories already in place. Egger projected that his idea would be commercially viable even if only one out of every ten Märklin or Fleischmann owners added an EGGER light railway to their layout. At least in the case of my parents, Egger guessed right!

Even back in the ' 60s, the dies for plastic injection molding were unbelievably expensive. The tooling for each single type of Egger loco cost well over 100,000 DM! Yet market positioning put a distinct cap on the potential consumer price: Theodor Egger clearly understood that a tiny narrow gauge locomotive would have to sell for much less than the smallest, cheapest Märklin loco if anyone was to buy them at all...

EGGER-BAHN around the world: the little industrial trains were exported to countries as far away as South America and Australia, and in Germany alone over 1000 model railway shops carried the entire EGGER-BAHN range. The Nürnberg Toy Show had indeed been the ideal venue for the introduction of the new model railway system. However, the expansion of marketing to include department store chains was a dubious move which eventually hurt the EGGER firm's reputation. The department stores certainly sold huge numbers of train sets at Christmastime, but they had no intention of providing year-round product support, instead selling off leftover stock at a discount after the holiday season. Customers seeking spare parts, accessories or advice were left high and dry, and this did little to build goodwill and loyalty towards a complex and admittedly »high-maintenance« high-tech toy...

In the end, only quality ensures success; the founders believed this from the start. Theodor Egger himself required that each and every loco undergo a 10-minute running test; only after passing the test was the loco released to the shipping department. Once Theodor Egger had left the firm, the manufacturing process was greatly simplified and the time-consuming tests discontinued, all in the name of cost-cutting. However, there was a different price to pay: sloppy workmanship, poorly-running models and rightfully dissatisfied customers. The firm's fate was sealed...